The benefits & features of SmartZone V5
DigitalAir has been offering Wi-Fi as a service WaaS since 2013 for a wide range of loyal customers. The system is designed using the Ruckus SmartZone architecture for which Ruckus has recently launched a new version (SmartZone V5.0). This version includes new features which help you to manage your wireless and IT infrastructure enabling your IT staff to focus on other business-related tasks, reducing departmental overheads.
Cloud-managed wireless networks have been around for a long time now and have considerably evolved throughout the years, as they have some real benefits over physical controllers for lots of businesses.
A few of these key benefits are:
Ease of configuration and management:
Whether your business is based across the nation or all over the globe, then having a cloud-based wireless architecture is a significant bonus. It enables you to have a single point of management wherever your staff is located. Managing all your locations from one single interface or pane of glass, as they say within the industry, allows a simplified way of monitoring and configuring multiple networks, however far apart they may be. Zero touch provisioning also allows your access points to be preconfigured onto your organisations zone within the platform. This enables you to simply ship access points around the globe as they have access out to the internet they will automatically join the correct sites location and become available to use as soon as they are connected to the Internet. Version 5.0 has a far richer dashboard enabling IT staff to access the information they need easily and quickly, reducing the overall time managing the solution.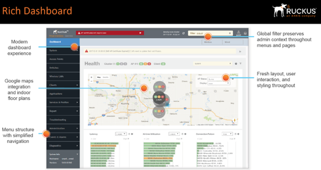 Scalability:
With our hosted SmartZone you are not limited by the fixed capability of a traditional physical controller. The near infinite flexibility means that the solution is able to cope with the expanding needs of your business, without having to swap out costly hardware which often happens with businesses who decide to go down the physical controller route.
Simplified Backup's
With local physical controllers, it will typically be the sites IT manager will typically need to administer backups. With DigitalAir's solution, backups can be done for all the sites from a single interface anywhere in the world.
Costs:
Physical controllers are costly. They have to be designed to be as scalable as possible whilst attempting to keep the costs down. So, they are built with expensive hardware that your small local sites don't always need. With Cloud it's a simple cost per access point per year, regardless of the network's size.
Further to this, your traditional onsite controller will require an ongoing service contract in order to have access to hardware replacement services, firmware updates and in many cases to actually work! This is an industry wide concept regardless of the manufacturer, which unfortunately increases the total investment needed to deploy a wireless network. With our cloud managed service, access to firmware updates, advanced hardware replacement of indoor access points and licensing are all included in the subscription cost.
New to SmartZone version 5.0
Additional Monitoring:
If you already have a Ruckus wireless network then why not start deploying Ruckus ICX switches as well. Version 5.0 of the SmartZone now enables you to monitor ICX switches, and all from the same interface. Ruckus have a very cost-effective licence per switch, along with a wide range of feature rich enterprise class switches. All your Ruckus ICX switches can now be visible from the same rich user interface as your wireless network. This again will reduce the amount of time that your administrators need to spend on your network.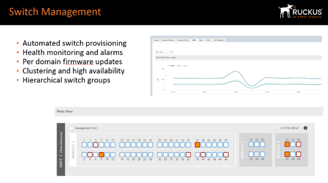 Alerting:
You can now setup individual email addresses for alerts on a per zone basis. This means that you can set criteria of when you need to be alerted and who will we receive an email alert if the criteria are met. This is great as it allows a timely response to any potential infrastructure issues that you might have. 
Historical Client Diagnostics:
This feature is more technical but it's a huge time saver for your IT administrators. It now allows them to see a time line of events for every client device. The reason why this is so valuable is that if a problem occurs whilst a colleague is trying to get onto the wireless network, it will show you exactly where they are experiencing the problem. This saves time for your IT staff as actually finding the source of the problem is commonly the most time-consuming part of diagnosing and remedying networking issues.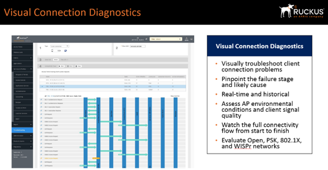 Easy PCI Readiness:
If your company is handling sensitive financial information and need to be PCI compliant, version 5.0 of the DigitalAir cloud hosted SmartZone is fully PCI compliant due to its more detailed reporting functionality.
Internet Content Filtering
Protecting your business's interests and the network users should be at the forefront of any technological investment. One key to this is the prevention of inappropriate material being accessed through the network. Ruckus has the ability to do this on your wireless network for you. It's a very cost-effective solution so please speak to us for further information.
Above are just some of the new features available so please do call and speak to us to understand how our Cloud platform could simplify and reduce the total cost of ownership of your wireless network.