WiFi Health Check Survey
Our WiFi Health Checks are industry leading and are designed to give customers an invaluable tool in resolving many of the common WiFi problems that limit productivity.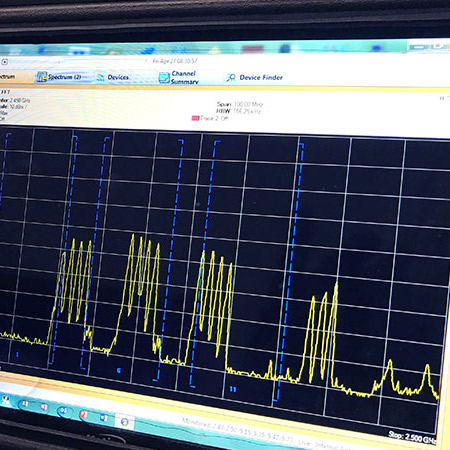 Discover Causes of Problems
Our surveys discover the following.
Coverage black spots
Interference
Poor throughput
Slow roaming
Client disconnects
Rogue access points
And many more common issues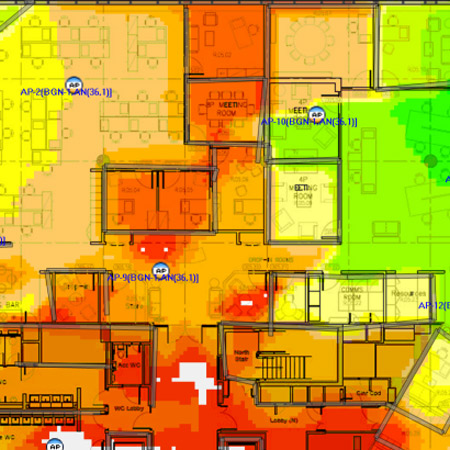 Industry Leading Heatmaps
Easily visualise the coverage of your network.
Heatmaps are the defacto industry tool to visualise network coverage, providing a clear way to see where coverage is missing.
Our Health Check surveys detail your exact coverage, or lack of it.
Poor WiFi Design
Has your WiFi been poorly designed in the past and is now not up to the demands of your mobile workforce?
Interference
Interference such as microwaves, PIR sensors, Bluetooth and legacy wireless devices can have a serious impact on your WiFi network.
Rogue Access Points
Rogue access points are a serious threat to the security of your wireless network and corporate data.
Connection Problems
Connection problems slow down productivity and increase complaints.
Coverage Dead Spots
Dead spots can be the result of a poorly designed WiFi network or a change in the RF environment which can be easily resolved.
Security Weaknesses
WEP and WPA-PSK are no longer acceptable in a corporate environment and more complex solutions are required to secure your data.
Detailed Reports
All of our survey reports include the following as standard.
WiFi coverage maps in 2.4Ghz and 5Ghz
Photographs of AP locations
RF Inteference
WiFi issues found
Resolution Steps
Our reports detail changes required to bring back the performance you require.
Optimise Network
Once the network problems are discovered, the optimisation can begin.
Following on from a health check survey the detailed report is then used in conjunction with our optimisation service to make the necessary changes to bring the performance back to your network.