Ruckus Wireless Cloud Solution
Until late 2014 if you were wanting a Cloud Wi-Fi solution from a Wi-Fi manufacturer your choices were limited to mainly Aerohive or Meraki to date.
In 2015 DigitalAir launched another option to throw into the technical analysis - Ruckus Networks. Everyone knows Ruckus Networks for the great performance that you get from their access points but for a long time there was not a cloud option available for their hardware.
DigitalAir built a new solution for Ruckus Wireless resellers to offer their customers a cloud enabled solution. The solution is built from Ruckus Wireless's 'Smart Wireless Services' portfolio and offers the following as part of the solution.
"By using our industry-leading NaaS (Networking-as-a-Service) cloud solutions, organisations reduce infrastructure costs, while improving scalability, flexibility and security. Suitable for spanning multiple geographic locations with tens of thousands of concurrent users."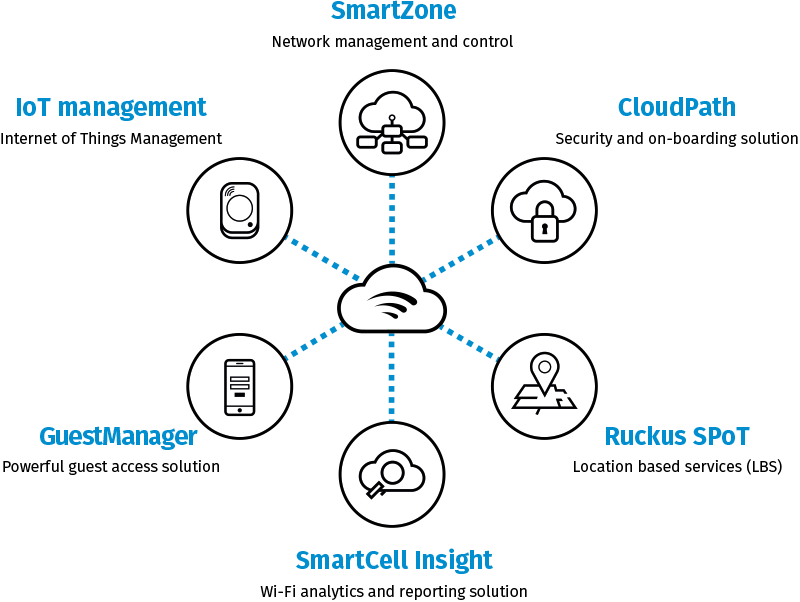 Ruckus Networks SmartZone - Our cloud has been intelligently designed with SmartZone as its core service, acting as a converged wired and wireless controller for Ruckus networks, providing Networking-as-a-Service (NaaS). The service offers a scalable cloud-based enterprise wired and Wi-Fi management to organisations of all sizes.
Ruckus Networks Cloudpath - A market leading, gold standard security solution delivered from our cloud for network access that provides enhanced policy management for role-based access control, guest access, BYOD which resolves many security vulnerabilities currently plaguing today's networks.
Ruckus Networks SmartCell Insight - SmartCell Insight (SCI) is designed for the most demanding enterprise networks, detailed analytics provides the intelligence you need to deliver a better mobile experience to your workforce and make informed business and operational decisions.
Ruckus Networks SPoT - Ruckus's Smart Positioning Technology (SPoT) intelligently gathers key data such as footfall traffic to drive efficiency and customer engagement. Allowing customers to consume this product as a subscription service on new and existing Ruckus networks hardware.
Ruckus Networks IoT Manager - IoT Manager performs connectivity, device and security management functions for IoT devices (non-Wi-Fi), as well as facilitate disparate endpoint management coordination and APIs for northbound integration with analytics software and IoT cloud services.
GuestManager - Improve your customer's experience and increase brand exposure using our guest access solution providing customised branding, data capture and multiple login options. Wether your objective is to monetise your Wi-Fi or enhance your customers brand experience.